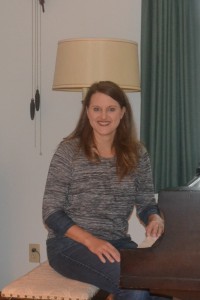 Janelle Munson never remembers a life without music. Being the daughter of a MLC music professor some of her first memories were standing in the living room being asked what the time signature of the composition was and having to become a conductor and direct the piece.
Her piano teacher was her father, Otto Schenk, and she studied a traditional method of instruction. She progressed through the Minnesota Music Teacher Association program with many high distinctions and honors. Her musical background also includes flute, and also piccolo.
Janelle has a daughter who began Suzuki violin lessons in 2013 and it was then Janelle fell in love with the Suzuki process. She was amazed by all the memorizing that the students were able to achieve and also how they can hear a piece of music and are able to play it.  Janelle started teaching the piano note reading class for the New Ulm Suzuki School of Music in September 2013.
Janelle lives in New Ulm with her husband and three children. She enjoys reading, knitting and genealogy.
Contact Information