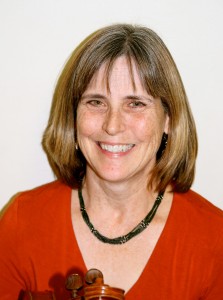 Paula Anderson is a graduate of the University of Nebraska with a Bachelor of Arts in Psychology and Sociology. She went on to complete her BA in Music in 1995 at Minnesota State University-Mankato. She has also done extensive training in the Suzuki Method and is a registered teacher for all 10 books. This training included attending teacher training courses at the American Suzuki Institute, long-term teacher training courses at Augsburg College Suzuki Talent Education Program with Nancy Lokken, and Mark Bjork's long term Suzuki Pedagogy course at the University of Minnesota. The program was a two-year pedagogy class and covered all the Suzuki Violin book levels.
Ms. Anderson is a member of the Mankato Symphony Orchestra and has played in the orchestra for 25 years. She has played in the first violin section for most of that time and also shared the principal 2nd violin position for two years. Before joining the Mankato Orchestra she was a member of the Kenwood Chamber Orchestra in Minneapolis. In addition, she has played in a variety of community orchestras and college orchestras including Minnesota State University – Mankato and the University of Nebraska orchestras.
Ms. Anderson has studied privately with James Riccardo, Marilyn Bos, Elmer Setzer, Morris Collier, and J. Laiten Weed. In addition her Suzuki teacher trainers have included, Mark Bjork, Nancy Lokken, Nancy Jackson, Alice Joy Lewis, and Craig Timmermann.
Ms. Anderson founded the New Ulm Suzuki School of Music approximately 15 years ago. It has grown from a small private studio to a non-profit, parent-run organization with a current enrollment of approximately 90 students. Students from this program have gone on to study music at a number colleges and universities including the University of Wisconsin – Madison, St. Olaf College, Boston University, Minnesota State University – Mankato, the University of Minnesota, and MacNally-Smith College (formerly College of Music Technology), St. Paul, MN. Former students are involved in careers that include the following: Orchestra and String Teacher, Atlanta, GA, Free-lance Violinist, Violist and Composer, Boston, MA, Rock Band Composer, Guitarist, and Vocalist, Minneapolis, MN, Rock and Country Band Singer and Violinist, Mankato, MN area, and Violinists and Violists, Mankato Symphony Orchestra, Mankato, MN.
Ms. Anderson is married and has 2 children who are also string players.
Contact Information